The apartments Le Fornaci are in Marina di Campo, one of the larger tourist centers on the Island of Elba.
The apartments are a few steps from the beach and the center.
Marina di Campo, has a splendid sandy beach, the largest on the island.
The town offers every type of service, has a beautiful walk along the seafront with many shops and is a popular evening meeting place.
Marina di Campo is therefore a perfect holiday choice for families as well as young people.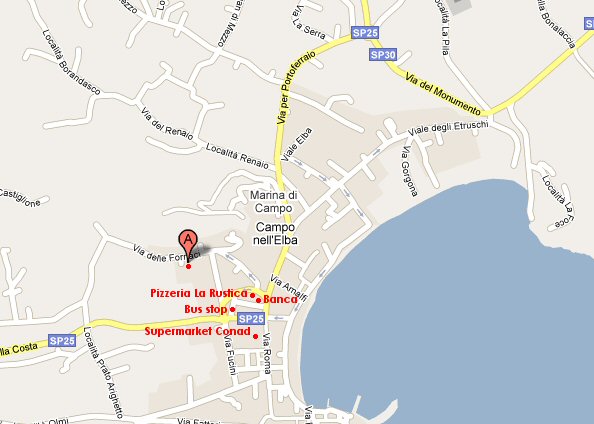 To reach "The Fornaci" Residence for those coming from Portoferraio follow what is indicated on the map as "Via per Portoferraio" that is the entry road to Marina di Campo.
After, the road will force you to turn right, in front there is a bank "Cassa di Risparmio di Firenze", just after the bend, on the right, you will find Via delle Fornaci, as reference in front of the street there is a Pizzeria "La Rustica", follow via delle Fornaci for 300 meters, on the letft, at n° 311 you will find the Residence "Le Fornaci".
You can find the owners at their home, right in front of the apartments at n° 316. You can always find them calling Laura number mobile phone +39.335.6137664